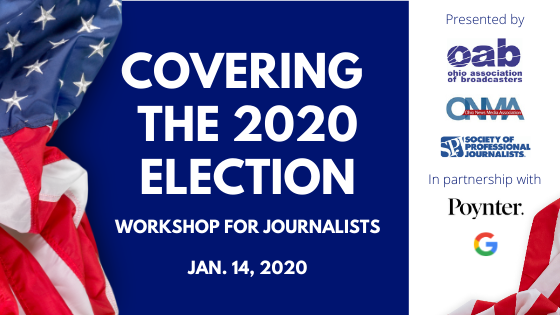 Presented by: 
Ohio Association of Broadcasters
Ohio News Media Association
Society of Professional Journalists
In partnership with: 
Google News Lab 
The Poynter Institute
Registration is now closed
Ohio will be an important state in the 2020 Presidential election with critical issues at stake, including immigration, health care, trade tariffs, and climate change.  How do we make sure that we're providing the information voters need to make informed decisions?
Join the Poynter Institute's Al Tompkins for a daylong workshop to help journalists move beyond the typical horse-race political coverage to deeply and meaningfully explore key issues that will shape the state's, and our nation's, future.
This FREE intensive program is made possible through a grant from Google News Labs, and is presented by the OAB, ONMA and SPJ.  The workshop is perfect for reporters, MMJs, producers, news managers, online and social media producers, and assignment editors.
The agenda includes:
How to cover important election issues in a way the public will watch, including:
Immigration
College debt
Health care
Tariffs
Climate change
What journalists need to know about election finances, including:
PACs
Super PACs
Dark money PACs
Understanding the Citizens United decision
How to track contributions from your coverage area
What journalists have to know about polling, including:
Margins of error
Sample sizes
The problems with "weighting"
Reliability and desirability indexes
Likely versus registered voters
How the American electoral system works: 
The primaries and caucuses
Selecting delegates
The role of super delegates
The conventions
The November election
Understanding electors
The electoral college in case of a tie
Why we have this system
Strengths and weakness of this system
The workshop will run from 9 a.m. – 4 p.m., with continental breakfast and lunch provided. This program is FREE to attend for members of the OAB, ONMA and SPJ, but registration is required. We encourage you to take advantage of this outstanding training opportunity.