About Blake Thompson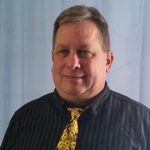 Blake Thompson has spent most of his career educating others on following the rules of broadcasting. Blake is currently the OAB's ABIP inspector, and the chief engineer of WQKT-FM/WKVX-AM in Wooster, Ohio. He received an FCC 1st Class License in 1979, which was converted to a general license in 1985. He has completed numerous programs at Society of Broadcast Engineer (SBE) events since 1989, currently holding a Certified Broadcast Network Technologist (CBNT) certification. He's been an active member of SBE since 1996, the chair of the Ohio Broadcast & Multimedia Technology Conference, and currently local SBE Chapter 70 Chairman.
Blake has extensive experience in FCC rules and regulations, including classes at the Ohio School of Broadcast Technique (OSBT) in Cleveland for the 1st Class License preparation program. Blake passed all three of the tests in October 1979. He continued working at the OSBT as a technician and instructor for their regulatory classes.
In 1980, Blake started at WAUP (now WZIP) at the University of Akron. He transitioned to Chief Engineer in 1982, and spent the next 34 years working with the general manager on numerous upgrades and rebuilds. He helped with the rules and regulation instruction of over 10,000 students to ensure proper legal operations at all times.In addition to working at WZIP, Blake took on the role of chief engineer at WRQK-FM and WINW-AM from 1995 – 2001 and acted as the liaison with an ABIP inspection of the facilities. He also worked with the staff at WQKT-FM / WKVX-AM on a complete self-inspection due to an upcoming license renewal.
In 2016, Blake was hired by Western Reserve Public Media in Kent to act as their contract transmitter engineer, and most recently has taken on the role as TV repack on-site engineer. He oversees all transmitter site work during the transition to new channels, which requires replacing transmitters, antennas and the associated issues that arise.
Blake completed additional field inspection training in 2017 with an FCC trained ABIP Inspector. He has experience in different types of facilities, and how each of them can maintain FCC compliance.